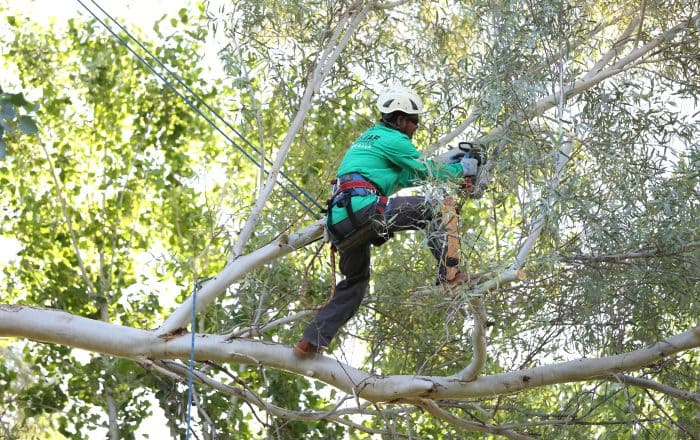 It's hard to know what to do with downed or damaged trees on your property after a terrible storm. Even though it might tempt you to remove them yourself, it's essential to know that Chandler tree removal is a dangerous job that should always be left to the professionals.
A trained arborist from Top Leaf can assess any other damage to your property and knows how to remove trees safely and effectively.
Broken Branches And Limbs
Storms can damage tree limbs and branches in a big way, making them dangerous for both people and the tree itself. A big, damaged branch connected to the tree could fall and hurt someone. Taking it down yourself is not worth the risk, so you should immediately call a tree removal service in Chandler, AZ.
Pests can also hurt trees when twigs break off and let them in. Insects find limb wounds and offer to make a home there, so cutting off broken branches and smoothing out rough edges is essential. If the arms are heavy, you shouldn't do this alone.
Fallen Tree Tops
When the top of a tree falls off, it's important to have a professional assess it to see if it can be saved or if it needs to be destroyed. With the help of Chandler, AZ, tree removal pros, the tree can be saved if its crown is still whole.
But if the tree's top is badly damaged, bugs and diseases will be drawn to it and kill it.

Professional Services for Tree Removal
At Top Leaf Tree Care Services, we know the importance of a professional company taking down trees after a storm. Our trained staff can remove fallen trees quickly and safely. They can also check the property for other damage and help you decide what to do next.
We are fully licensed and insured, and our certified arborist can assess the problem professionally and help you decide what to do next.
Contact Top Leaf Tree Care Solutions for the best tree care and tree removal programs in Chandler, AZ. We commit to providing our customers with the highest quality service, so don't hesitate to contact us for help after a storm.
You can fill in the compact form below, and one of our experienced staff will be in touch. In addition, you can check more customer reviews on Google regarding our tree care services.

Fill in for a Direct Response