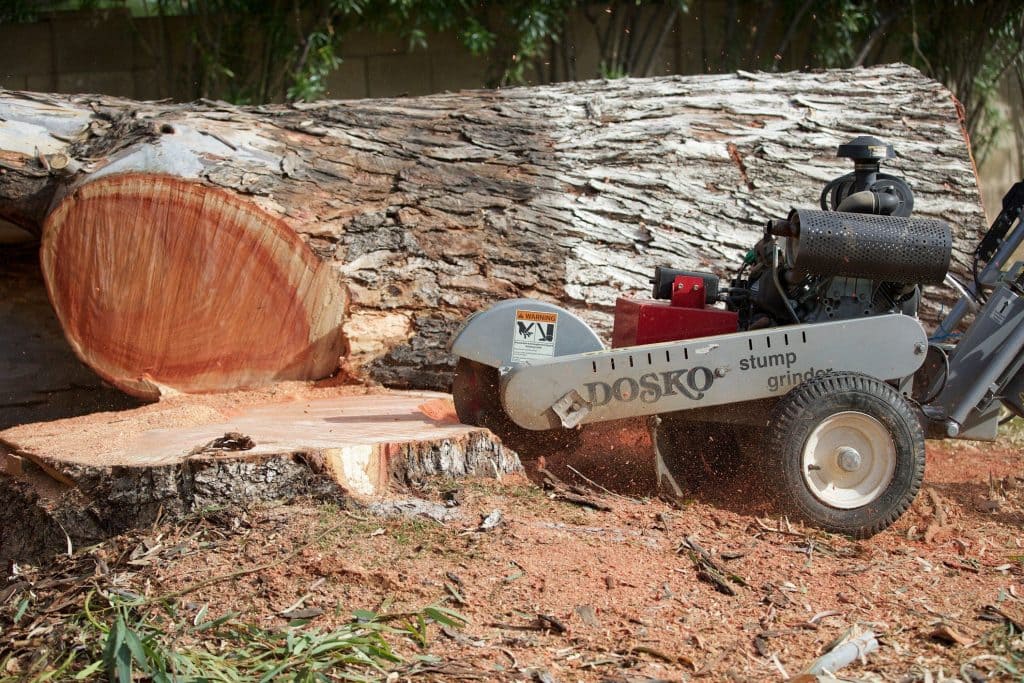 Scottsdale professional stump grinders from Top Leaf Tree Service are equipped with powerful machinery and tools that make the job easier and faster. This means you can have your yard looking beautiful again in no time!
Our professionals use these machines safely to ensure that no damage is caused to the surrounding areas during the process.
In conclusion, if you need efficient stump removal services from experienced professionals, look no further than Top Leaf Tree Service's trusted team of experts who use high-quality Scottsdale professional stump grinders for every job!
The Dangers of DIY Stump Removal
Stump removal is a task that requires experience and expertise, which is why it's always best to leave this job to professionals who specialize in stump grinding.
DIY stump removal poses many dangers that homeowners should know before attempting the task themselves. One of the most significant risks is physical injury. Stumps are often heavy and challenging to maneuver, making them dangerous to handle without proper equipment and training.
Another danger of DIY stump removal is property damage. Homeowners may accidentally hit underground utility lines or damage surrounding plants while trying to remove the stump on their own. This can cause costly repairs or even legal consequences if underground utilities are disrupted.
Expert Scottsdale Stump Grinding Services by Top Leaf Tree Service's Professional Stump Grinders
At Top Leaf Tree Service, we understand the importance of eliminating unsightly tree stumps from your property. Not only do they take up valuable space in your yard, but they can also pose a safety hazard for people and pets. That's why we offer expert Scottsdale stump grinding services to remove the stump and roots from your property completely.
Our professional stump grinders use top-of-the-line equipment to ensure efficient and effective removal of any size stump. We prioritize safety on every job, using proper techniques to protect our workers and your property. We commit to providing exceptional service and leaving your property clean after the job.

Leave Stump Removal to the Professionals at Top Leaf Tree Service
At Top Leaf Tree Service, we understand that removing a tree stump can be daunting. Stumps can be both an eyesore and a hazard to everyone around them. Removing them correctly is essential, and the best way to do so is by leaving it up to the professionals. Our experts have years of experience in safely removing stumps from any property.
When you hire our services, you're not only getting rid of an unsightly stump but also ensuring the safety of your family and pets.
Don't risk injuring yourself or damaging other parts of your landscape by attempting to remove a tree stump on your own; contact us today for all your tree service needs!
You can fill in the compact form below, and one of our experienced staff will be in touch. In addition, you can check more customer reviews on Google regarding our tree care services.

Fill in for a Direct Response