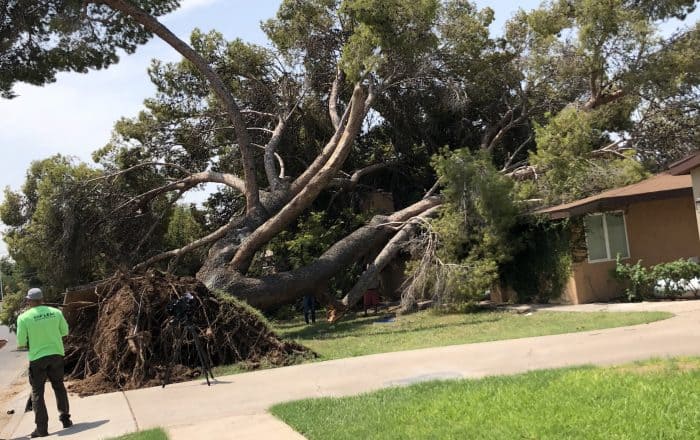 When a severe storm strikes Paradise Valley, Arizona, leaving a trail of damage in its wake. Knowing who to call for prompt and effective emergency storm damage cleanup is essential.
Here, we'll explore the importance of a quick response to storm damage and why Top Leaf Tree Service is your trusted partner for emergency storm damage cleanup in Paradise Valley.
The Urgency of Storm Damage Cleanup
Storms can bring about various types of damage, including fallen trees and branches, debris scattered across your property, and even damaged structures. Prompt cleanup is crucial for several reasons:
1. Safety: Storm debris can pose immediate safety hazards, making cleanup a top priority to prevent accidents and injuries.
2. Property Protection: Timely cleanup helps prevent further damage to your property. Fallen trees or branches can cause additional destruction if not addressed promptly.
3. Restoration: The sooner cleanup begins, the sooner you can restore your property to its pre-storm condition.
4. Insurance Claims: Promptly documenting and promptly addressing storm damage is essential for insurance claims. Delayed cleanup can complicate the claims process.
Why Choose Top Leaf Tree Service for Emergency Storm Damage Cleanup?
Top Leaf Tree Service is your local expert for emergency storm damage cleanup in Paradise Valley, AZ. Here's why you should trust us with your storm damage cleanup needs:
Rapid Response: We understand the urgency of storm damage cleanup. Our team is available 24/7 to respond promptly to your call.
Safety First: Safety is our top priority. We take the necessary precautions to ensure the safe cleanup and removal of storm debris.
Local Knowledge: We deeply understand the local climate and conditions in Paradise Valley, enabling us to provide efficient and effective storm damage cleanup.
Comprehensive Services: Beyond storm damage cleanup, we offer a wide range of tree care services, including tree trimming, tree pruning, stump grinding, and tree removal.

Where To Find Emergency Storm Damage Cleanup
When faced with emergency storm damage cleanup in Paradise Valley, AZ, it's crucial to act swiftly to ensure safety, protect your property, and expedite restoration. Contact Top Leaf today to schedule your maintenance appointment. Our team is ready to help you protect your trees and ensure their long-term health.
Alternatively, you can fill out the compact form below, and one of our experienced staff members will be in touch. In addition, you can check customer reviews on Google regarding our tree care services.

Fill in for a fast response