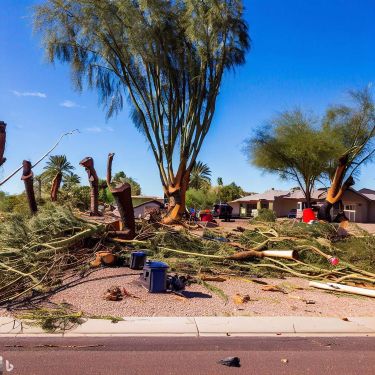 In Queen Creek, Arizona, the responsibility for storm damage cleanup of trees typically depends on various factors, including the tree's location and the damage's circumstances. Here's a general guideline from the experts at Top Leaf Tree Service
Private Property Trees: If a tree on your personal property is damaged during a storm, it is generally the property owner's responsibility to handle the cleanup. This includes removing fallen branches and debris and arranging for tree removal or pruning.
Public Property Trees: Trees located on public property, such as those along streets or in public parks, are typically the responsibility of the local government or relevant municipal authority. They are responsible for assessing and managing storm damage to public trees, including cleanup and removal if necessary.
Utility Companies: In some cases, storm damage to trees near utility lines or infrastructure may be the responsibility of utility companies. They often have procedures to address trees that pose a risk to power lines or other utilities.
Insurance: Homeowners' insurance policies may cover the cost of tree cleanup and removal if the damage is extensive and the tree poses a danger to your property or structures. It's essential to check your policy and contact your insurance provider for guidance.
Professional Tree Services: Many tree care and removal companies, like Top Leaf Tree Service, offer storm damage cleanup services. Property owners can hire these professionals to assess and address storm-damaged trees, including removal and debris cleanup.
Community Responsibility: Sometimes, homeowners' associations or community organizations may be responsible for storm damage cleanup in shared areas or common spaces within a neighborhood.
Get the Best Storm Damage Cleanup From Top Leaf
Documenting any storm damage is crucial, especially if it involves fallen trees or significant debris. This documentation can be helpful when dealing with insurance claims or seeking assistance from local authorities or tree service providers.
Additionally, always prioritize safety when dealing with storm-damaged trees, as they can be unstable and hazardous. Contact Top Leaf today to schedule your maintenance appointment. Our team is ready to help you protect your trees and ensure their long-term health.
Alternatively, you can fill out the compact form below, and one of our experienced staff members will be in touch. In addition, you can check customer reviews on Google regarding our tree care services.

Fill in for a fast response