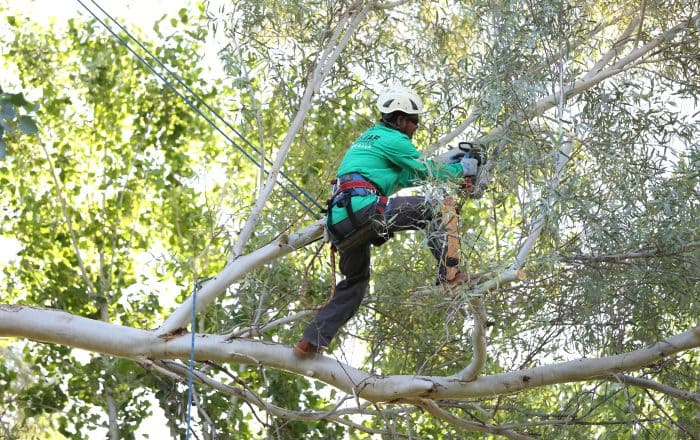 At Top Leaf Tree Service in Mesa, AZ, we are your go-to professionals for all your tree care needs. With years of experience and a team of highly skilled arborists, we offer various tree services, from tree trimming to planting and everything in between.
Our commitment to providing top-notch service and unparalleled expertise sets us apart as the leading tree care company in Mesa and the surrounding areas.
Tree Trimming - Enhancing the Health and Aesthetics of Your Trees
Proper tree trimming is essential for the health and aesthetics of your trees. Our expert arborists at Top Leaf Tree Service understand the science and art of tree trimming.
We employ industry-leading techniques to remove dead or diseased branches, improve tree structure, and promote healthy growth. Our team is equipped with state-of-the-art tools and equipment to safely and efficiently trim trees of all sizes and species, ensuring your trees look their best and thrive in their environment.
Tree Removal - Safe and Efficient Tree Removal Services
Tree removal may occasionally be required for disease, safety, or other factors. Top Leaf Tree Service has the know-how to remove trees of any size or complexity safely and effectively.
Our arborists meticulously evaluate the tree's condition and placement using industry best practices to choose the optimal removal strategy. We put safety first and take all required measures to safeguard your property while ensuring the tree is successfully removed.
Tree Planting - Enhancing the Beauty and Value of Your Landscape
Adding trees to your landscape not only enhances its beauty but also increases the value of your property. At Top Leaf Tree Service, we offer professional tree planting services tailored to the unique needs of your property.
Emergency Tree Services - Prompt and Reliable Emergency Tree Care
Emergencies with trees can threaten your property and safety at any time. Top Leaf Tree Service offers timely and dependable emergency tree care services because we recognize the necessity of such circumstances.
Our staff is on call around the clock to handle tree emergencies like storm damage, fallen trees, and dangerous limbs. To safeguard your property and loved ones, we have the knowledge and tools to analyze the situation immediately, create a plan of action, and safely remove or minimize the hazard.

Trust Your Tree Care to the Experts at Top Leaf Tree Service!
With our extensive experience, skilled arborists, and commitment to customer satisfaction, Top Leaf Tree Service is your top choice for all your tree care needs in Mesa, AZ, and the surrounding areas.
Contact us today to schedule an appointment or request emergency tree services. Enhance the health and beauty of your trees with our top-notch services. Your trees deserve the best care; we are here to provide it!
You can fill in the compact form below, and one of our experienced staff will be in touch. In addition, you can check more customer reviews on Google regarding our tree care services.

Fill in for a Direct Response