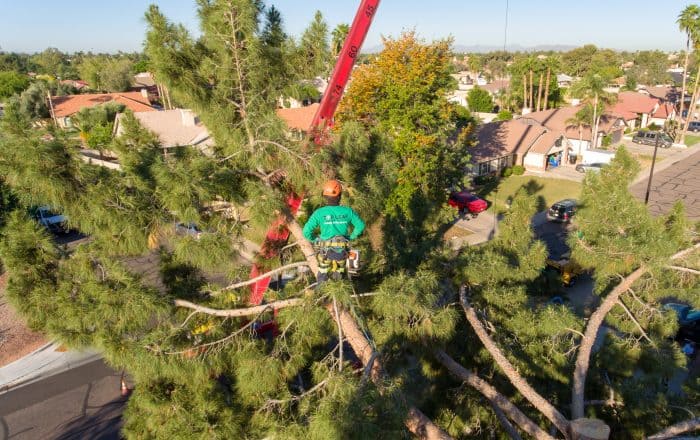 As Queen Creek, AZ's leading tree removal expert, Top Leaf is committed to providing top-notch services to our clients. We understand the importance of maintaining healthy trees and know the dangers of topping trees.
This article will explore why topping trees should be avoided and why you should trust Top Leaf for your tree removal or tree topping needs.
What is Tree Topping?
Tree topping, also known as heading, is the practice of cutting off the top of a tree's crown. This is often done to reduce the tree's height, but it can have severe consequences for its health and stability.
Don't let an unsightly tree ruin the beauty of your yard. Contact Top Leaf Tree Service today to schedule your tree trimming or stump removal service and enjoy your beautiful outdoor space again!
The Dangers of Topping Trees
Topping trees can cause significant damage to the tree and make it more susceptible to disease and pests. The crown removal can also reduce the tree's ability to produce energy and make it more likely to grow weak branches prone to breaking.
Topped trees are also more likely to fall over in strong winds or storms, making them a safety hazard.
Tree Removal: A Safer Alternative to Topping
Removal may be the best option when a tree is too large or poses a safety hazard. At Top Leaf, we have the experience and expertise to remove trees of any size safely and efficiently.
We use state-of-the-art equipment and follow industry-standard safety protocols to ensure the job is done correctly.
Our Tree Removal Services
At Top Leaf, we offer a wide range of tree removal services to meet the needs of our clients. Whether you need a single tree removed or an entire lot cleared, we have the tools and experience to do the job.
We also provide stump removal and grinding services to ensure your property is left clean and debris-free.
Why Choose Top Leaf?
At Top Leaf, we pride ourselves on providing the highest quality tree removal services in Queen Creek, AZ. Our team of experts is dedicated to providing top-notch services and ensuring that our clients are delighted with our work. We also offer competitive pricing and flexible scheduling to make our services as accessible as possible.

Find Premium Tree Trimming or Tree Removal Services
If you need tree removal services in Queen Creek, AZ, contact Top Leaf. Our team of experts is here to help you with your tree removal needs.
Contact Top Leaf today to schedule a consultation and get a free estimate.
Our team is ready to take on any tree removal challenge and ensure your yard looks beautiful again.
You can fill in the compact form below, and one of our experienced staff will be in touch. In addition, you can check more customer reviews on Google regarding our tree care services.

Fill In For A Quick Response