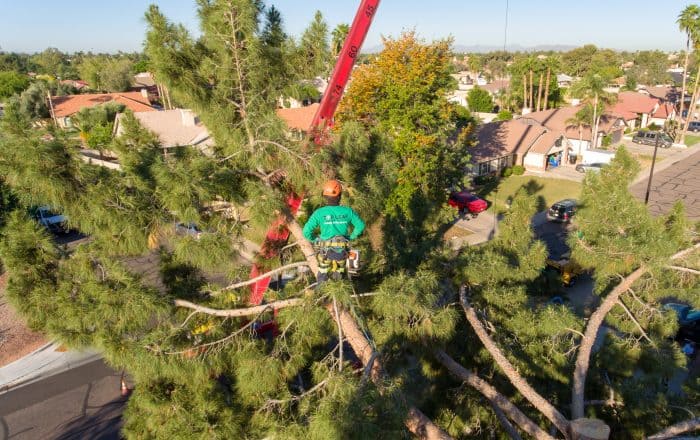 If you want to enhance the beauty and vitality of your landscape in Paradise Valley, AZ, look no further than Top Leaf Tree Service.
Our expert team specializes in palm tree trimming, offering professional services to ensure your palm trees are healthy, aesthetically pleasing, and well-maintained.
Read on to discover the benefits of regular palm tree trimming, learn about our professional pristine palm tree pruning techniques, and take the first step towards transforming your landscape.
Benefits of Regular Palm Tree Trimming
Regular palm tree trimming goes beyond just aesthetics; it is essential for your palm trees' overall health and longevity.
Palm trees can become vulnerable to various issues, like frond breakage, pest infestation, and disease, when left untrimmed. By scheduling regular trimming sessions with Top Leaf Tree Service, you can enjoy the following benefits:
Enhanced Tree Health: Trimming removes dead or dying fronds, allowing your palm tree to allocate energy towards healthy growth and development.
Reduced Risk of Property Damage: Overgrown palm tree fronds pose a risk of falling, especially during storms or high winds. Trimming helps eliminate this risk, protecting your property and ensuring the safety of your family and visitors.
Improved Aesthetics: Trimmed palm trees have a neat and well-groomed appearance, adding beauty and elegance to your landscape. They instantly enhance the overall curb appeal of your property.
Professional Techniques for Pristine Palm Tree Pruning
At Top Leaf Tree Service, we employ professional techniques to ensure the best results when pruning your palm trees. Our team comprises experienced arborists who are well-versed in the unique requirements of palm trees.
We follow the industry's best practices to deliver pristine palm tree pruning services, including:
Selective Pruning: Our arborists carefully select the fronds to be trimmed, ensuring that only the dead, diseased, or damaged ones are removed. This approach promotes optimal tree health and minimizes stress on the palm tree.
Correct Timing: When scheduling pruning sessions, we consider your palm trees' specific species and growth patterns. Adhering to the timing ensures minimal impact on tree health and encourages proper regrowth.
Proper Equipment and Safety: Our team uses specialized tools and equipment for palm tree pruning. We follow strict safety protocols to protect our crew members and your property during pruning.

Contact Top Leaf for a Free Estimate and Schedule Your Palm Tree Trimming Today!
Ready to enhance the beauty of your landscape with Top Leaf Tree Service's palm tree trimming services?
Contact us today for a free estimate and schedule your palm tree trimming session. Our dedicated team is here to provide exceptional tree care services and ensure your palm trees thrive in their natural environment.
In addition, you can check more customer reviews on Google regarding our tree care services.

Fill in for a Direct Response