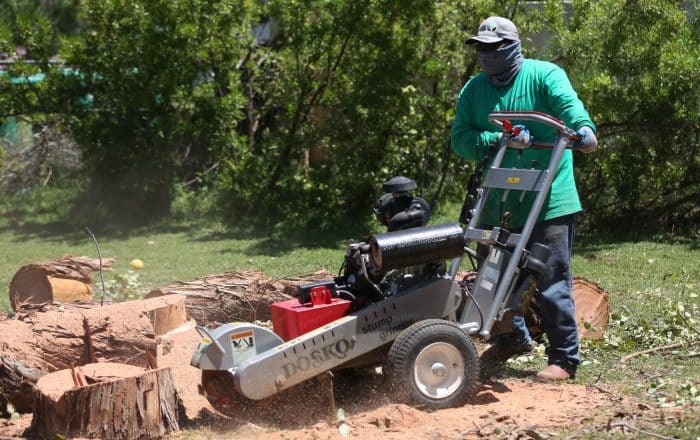 If you've recently had a tree removed from your Tempe property, you may be wondering what to do with the leftover stump. While it may seem like a minor issue, addressing the stump adequately is essential.
That's where stump grinding comes in. Here's why Tempe stump grinding is so essential after tree removal:
Improve the Appearance of Your Property
A tree stump left behind after cutting down a tree can be an eyesore, mainly if it is situated in a prominent location in your yard. Grinding up the stump will remove it, leaving your property neat and well-kept after completing the process. Top Leaf is the premier stump grinding company in the region.
Prevent Regrowth With Tempe, AZ Stump Removal
It is possible for stumps to regrow, particularly if they are not removed correctly. Grinding a stump removes the entire stump, including the root system, which prevents regrowth after the stump has been removed.
Protect Your Property
Having a tree stump in your yard after it has been removed can be an eyesore, especially if it is in a prominent location. Grinding the stump removes the stump, leaving your property to appear clean and well-maintained after the process.
Save Money
While it may seem unnecessary, stump grinding can save you money in the long run. If a stump is not removed correctly, it can rot and become a breeding ground for pests. This can lead to costly pest control and damage to your property. Stump grinding is a cost-effective solution.

Trust the Experts at Top Leaf Tree Service
If you need Tempe stump grinding services, don't hesitate to contact the experts at Top Leaf Tree Service. Our team has the equipment and experience necessary to remove stumps safely and effectively from your property. Contact us today to schedule your service.
Don't let a leftover tree stump become a hazard or an eyesore on your property. Trust the team at Top Leaf Tree Service to handle your Tempe stump grinding needs. Contact us today to schedule your service.
You can fill in the compact form below, and one of our experienced staff will be in touch. In addition, you can check more customer reviews on Google regarding our tree care services.

Fill In For A Quick Response