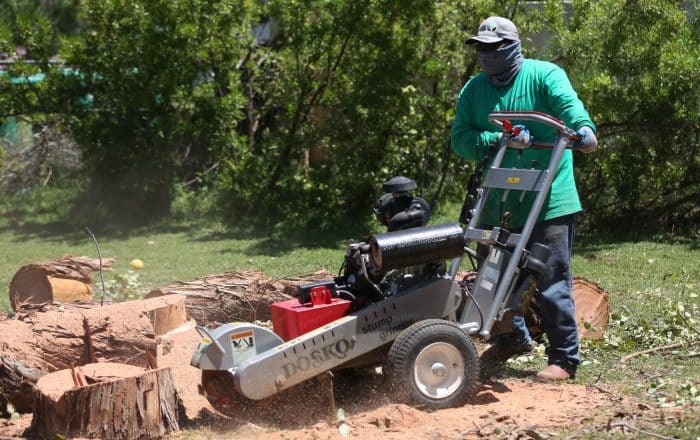 Are you looking for a way to create a neat and attractive yard in Phoenix? Look no further than Top Leaf's stump grinding services! With our expertise and knowledge, we can help you achieve the yard of your dreams.
What is Stump Grinding?
Stump grinding is the process of removing tree stumps from your yard. It involves using a machine to grind the stump away, leaving your yard looking neater and more attractive. The process is often done after a tree has been cut down, but it can also be done as a maintenance task to keep your yard looking nice.
Benefits of Stump Grinding
When you hire Top Leaf for stump grinding services, you'll enjoy a variety of benefits:
• No more unsightly stumps in your yard – Stump grinding removes the stump from your yard, leaving it neat and attractive.
• Reduced risk of pests – Stump grinding can help reduce the risk of pests in your yard, such as termites and ants.
• Increased safety – Stump grinding can also help make your yard safer, as there will be no more large stumps that could potentially cause injury.
• Improved aesthetics – Stump grinding can help improve the overall aesthetic of your yard, making it look more inviting and attractive.
Why Choose Top Leaf?
At Top Leaf, we take pride in our stump grinding services. We have over 15 years of experience in the tree care industry and have the knowledge and expertise to get the job done right. We use only the best equipment and techniques to ensure your yard looks its best.
We also take safety seriously and always use the proper safety equipment when performing our services. We are also fully insured, so you can rest assured that you're in good hands.

Find the Best Stump Grinding Company in Phoenix, AZ
Ready to get started on transforming your yard? We'll be happy to provide you with a free estimate and answer any questions you may have.
We also offer many other tree care services to keep your property safe and beautiful. Don't hesitate to contact us today to schedule a free tree inspection and to take care of your tree needs.
You can fill in the compact form below, and one of our experienced staff will be in touch. In addition, you can check more customer reviews on Google regarding our tree care services.

Fill In For A Quick Response