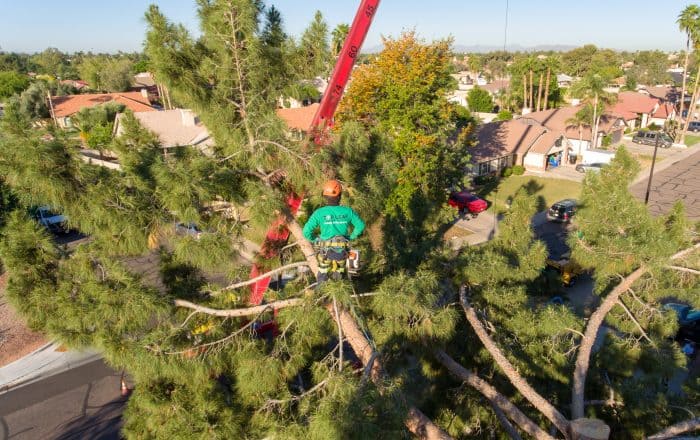 Storms can be incredibly destructive and cause significant damage to your property, including trees. If a tree has been damaged in a storm, it's essential to act quickly to remove it before it causes further damage or injury to your home.
Top Leaf Tree Care in Mesa, AZ, is the company to call in case of an emergency tree removal situation.
Why Homes Need To Be Safe from Falling Trees
When a tree is damaged in a storm, it can become unstable and fall anytime. This poses a significant risk to people and property. A falling tree can cause damage to your home, car, and other personal property, as well as injury or death to anyone in its path.
A damaged tree can also attract pests and diseases, spreading to other trees on your property and causing further damage. The longer you wait to remove a damaged tree, the greater the risk becomes.
Why Top Leaf is the Best Choice for Emergency Tree Removal
At Top Leaf, we understand the importance of acting quickly in the case of storm damage. That's why we have an emergency response team ready to respond to calls for tree removal at any time.
Our team is equipped with the latest equipment and has the necessary skills and experience to remove any damaged tree, regardless of size or location.
We prioritize removing any trees that pose an immediate risk to people or property. Our team will then remove the damaged trees safely and efficiently, minimizing the risk of further damage or injury.
Additional Services
In addition to emergency tree removal, Top Leaf also offers various other tree care services. This includes tree trimming, pruning, planting, and ongoing tree maintenance. Our team of experts will work with you to develop a customized plan that meets your needs.

Get the Best Tree Removal Company For Around The Clock Storm Damage Help
Don't wait for a tree to fall on your home and cause damage or injury. Contact Top Leaf Tree Care in Mesa, AZ, for emergency tree removal services.
We also offer many other tree care services to keep your property safe and beautiful. Don't hesitate to contact us today to schedule a free tree inspection and to take care of your tree needs.
You can fill in the compact form below, and one of our experienced staff will be in touch. In addition, you can check more customer reviews on Google regarding our tree care services.

Fill In For A Quick Response