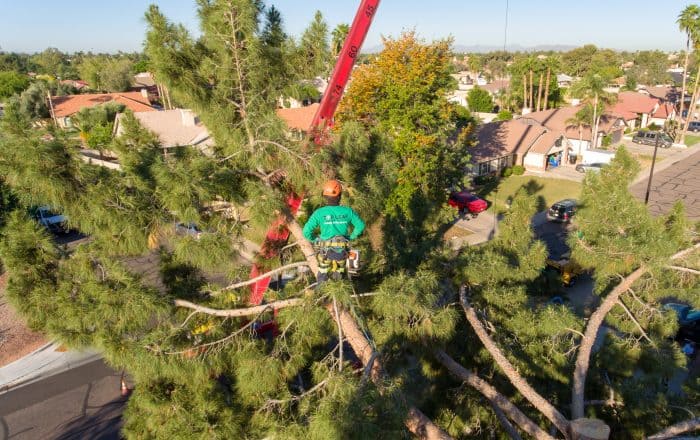 At Top Leaf Tree Service, we understand trees can provide many benefits to your property, including shade, beauty, and environmental advantages.
However, sometimes tree removal is necessary for the safety and aesthetics of your property. Our expert tree removal services can provide the ultimate solution if you have damaged or diseased trees on your Scottsdale, AZ, property.
A Safe and Professional Approach to Tree Removal
At Top Leaf Tree Service, we prioritize your property's and our team's safety during every tree removal project. Our trained professionals use the latest equipment and techniques to ensure a safe and efficient removal process.
We also consider the surrounding environment and take measures to minimize potential damage or impact.
Expert Tree Inspection and Evaluation
Before proceeding with any tree removal, our team thoroughly inspects and evaluates the tree in question.
We examine the tree's health, location, size, and potential hazards. Based on our evaluation, we provide a comprehensive plan for tree removal and any necessary follow-up services, like stump removal or tree replacement.
Emergency Tree Removal Services
We understand that tree emergencies can happen at anytime, and immediate action is often required. That's why we offer 24/7 emergency tree removal services for our Scottsdale, AZ customers.
Our team is always ready to respond promptly and safely, whether it's because of severe weather or a sudden tree failure.
Tree Removal for Aesthetic Improvement
Besides safety concerns, tree removal can provide significant aesthetic benefits to your property. Removing dead or diseased trees can improve the overall appearance of your landscape and increase your property's value.
Our team can also provide recommendations for tree replacement or other landscaping services to enhance the beauty and functionality of your property.

Invest in a Safe and Beautiful Property Today!
Don't let damaged or diseased trees compromise the safety and beauty of your property. Contact Top Leaf Tree Service for expert tree removal services in Scottsdale, AZ.
Our team of professionals provides safe and efficient tree removal services and various other tree care and landscaping services. Let us help you create a safe and beautiful property today!
You can fill in the compact form below, and one of our experienced staff will be in touch. In addition, you can check more customer reviews on Google regarding our tree care services.

Fill in for a Direct Response