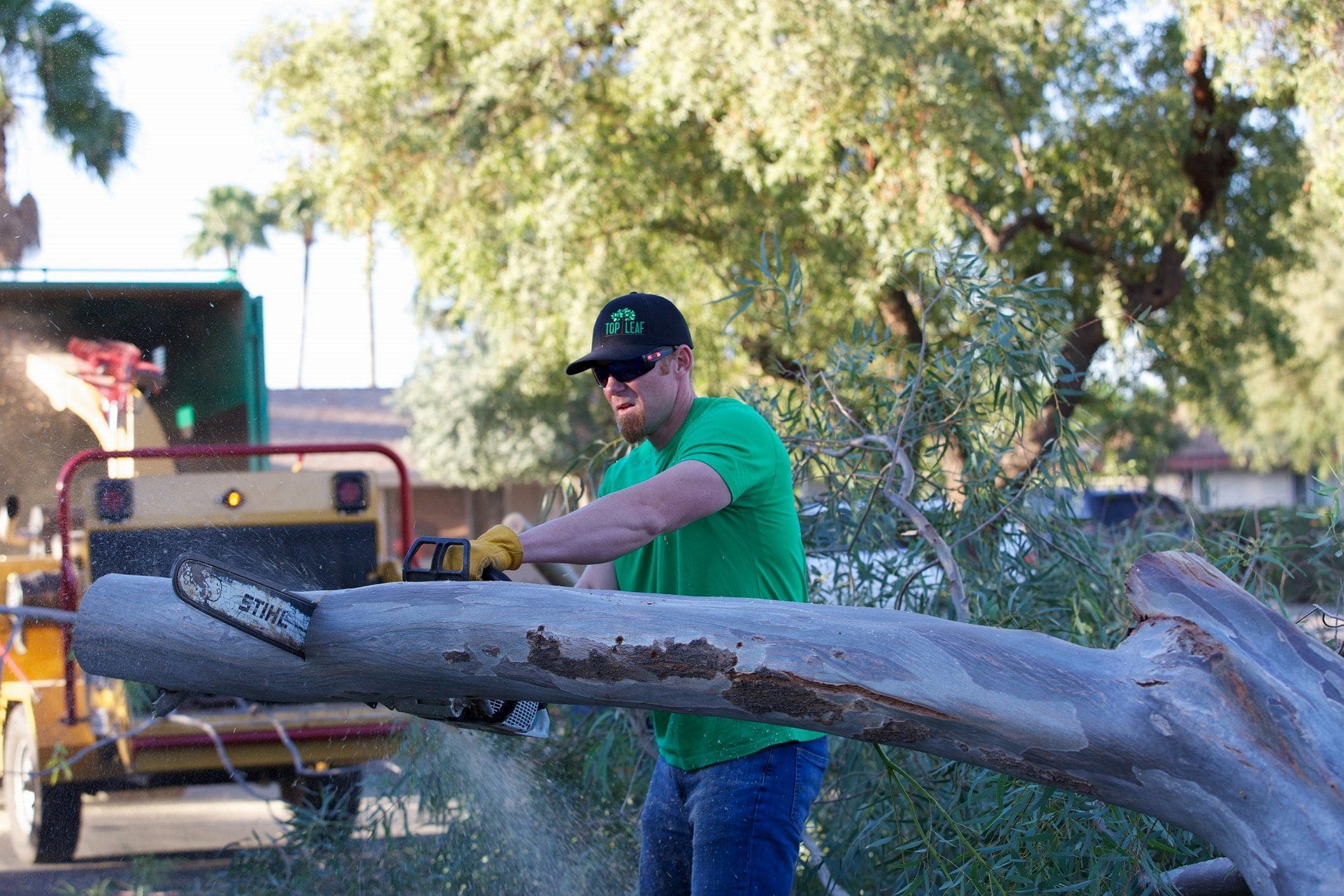 If you live in Scottsdale, Arizona, you know how beautiful the landscape can be. But sometimes, the natural beauty can be marred by unsightly stumps. Not only do stumps detract from the beauty of your property, but they can also pose a safety hazard to anyone walking or playing in the area.
Luckily, stump grinding is a safe and effective way to get rid of those pesky stumps. And if you're seeking a professional stump grinding service in Scottsdale, look no further than Top Leaf Tree Service.
What is Stump Grinding?
Stump grinding is removing a stump by using a machine with a rotating cutting wheel. The cutting wheel grinds the stump and its roots into small wood chips, which can then be used as mulch or easily disposed of.
Stump grinding is the best option for removing stumps for several reasons:
Safety: Stump grinding is the safest method of stump removal. Unlike other ways, such as digging or using chemicals, stump grinding does not involve heavy machinery or hazardous chemicals.

Speed: Stump grinding is a quick process to be completed in a matter of hours, depending on the size and location of the stump.

Cost: Stump grinding is often less expensive than other stump removal methods, such as digging or using chemicals.

Environmental: Stump grinding is an environmentally friendly method of stump removal. The wood chips produced during the grinding process can be used as mulch, which helps to keep moisture in the soil and reduce erosion.
Why Choose Top Leaf Tree Service for Your Stump Grinding Needs?
At Top Leaf Tree Service, we are committed to providing our customers with the highest quality stump grinding services in Scottsdale. Here are some reasons why you should choose us:
Experience: Our team of professionals has years of experience in stump grinding and removal. We have the knowledge and expertise to remove stumps of any size safely and effectively.

Equipment: We use only the best equipment to ensure that our stump grinding services are efficient and effective. Our equipment is regularly maintained and updated to ensure we always use the latest technology.

Customer Service: We put our customers first at Top Leaf Tree Service. We strive to provide excellent customer service and always go the extra mile to ensure our work satisfies our customers.

Affordable: We offer competitive pricing for our stump grinding services. We believe everyone should be able to afford high-quality stump removal services, and we work hard to keep our prices affordable.
How to Get Started with Top Leaf Tree Service
Getting started with Top Leaf Tree Service is easy!
Contact Us: Schedule a consultation. We'll be happy to answer questions about our services.

Schedule the Service: Once we've discussed your needs and determined the best course of action, we'll schedule the stump grinding service at a convenient time.

Sit Back and Relax: Our team will handle everything from start to finish. You can sit back and relax while we safely and efficiently remove the stump from your property.

Enjoy Your Beautiful Property: With the stump gone, you can enjoy your property to the fullest. Your property will look better than ever, and you won't have to worry about safety hazards.

Getting The Best Yard With Top Leaf in Scottsdale, AZ
Stump grinding is the safest, fastest, and most cost-effective way to remove stumps from your property. And when you choose Top Leaf Tree Service for your stump grinding needs, you can be confident that you're getting the best service possible. Contact us today to schedule a consultation
You can fill in the compact form below, and one of our experienced staff will be in touch. In addition, you can check more customer reviews on Google regarding our tree care services.

Fill In For A Quick Response