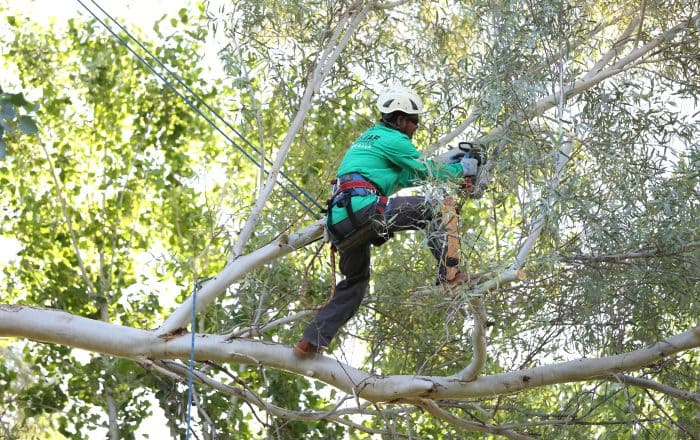 Tree removal can be difficult and dangerous, but removing a tree that is dead, dying, or poses a risk to your property is sometimes necessary.
If you're in the Paradise Valley, AZ area, the experts at Top Leaf Tree Service can help ensure your tree is removed safely and efficiently. Here is a guide to the tree removal process and the benefits of removing a tree.
The Tree Removal Process:
Assessment: The first step in removing a tree is to assess its condition and determine if it's safe to remove. The arborists at Top Leaf Tree Service will examine the tree and its surroundings, considering its size, location, and potential hazards.

Planning: Once it's determined that the tree needs to be removed, the arborists at Top Leaf Tree Service will evaluate the best and safest way to remove it. This may involve using specialized equipment or techniques, and it may also include getting permission from local authorities if the tree is located in a protected area.

Removal: The tree removal process begins with cutting the branches to a manageable size. Next, the arborists will remove the trunk and stump safely and efficiently. If necessary, we will remove the roots, preventing the tree from re-growing.

Cleanup: After removing the tree, the arborists will clean up the debris, leaving your property neat and tidy. We will also grind down the stump, ensuring it will not re-grow.
The Benefits of Tree Removal:
Safety: One of the main benefits of tree removal is safety. If a tree is dead, dying, or poses a risk to your property, removing it can prevent potential damage or injury.

Improve Property Value: A tree that is dead dying, or overgrown can decrease the aesthetic appeal of your property, and removing it can improve the overall appearance of your yard, adding to the value of your property.

Prevent Disease: A diseased tree can also spread its disease to nearby trees, causing a chain reaction of illness and death. Removing the tree can prevent the spread of infection to other trees.

More Space: Removing a tree can also provide more space for new landscaping or the growth of existing plants and trees. It can also allow more sunlight to reach your property, benefiting plants and lawns.

Get Help From Premium Paradise Valley Tree Removal
At Top Leaf Tree Service, our arborists are fully licensed and insured and have the knowledge and experience to remove any tree safely. We use the most up-to-date equipment and techniques to remove your tree safely and efficiently. We also offer tree pruning, planting, and maintenance services.
Don't hesitate to contact Top Leaf Tree Service for all your tree removal needs in Paradise Valley, AZ. We provide free estimates and have the skills and expertise to take care of your tree removal needs safely and efficiently.
We're just a phone call away, Contact us today to schedule your service.
You can fill in the compact form below, and one of our experienced staff will be in touch. In addition, you can check more customer reviews on Google regarding our tree care services.

Fill In For A Quick Response