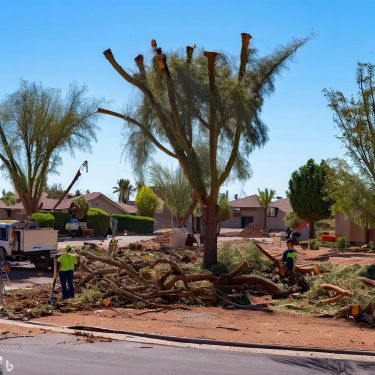 The dramatic monsoons in Phoenix, Arizona, bring much-needed rain but can also wreak havoc on your trees. Knowing when to take action after a monsoon is crucial for tree health and property safety. In this guide, we'll discuss the timeline for addressing tree damage and introduce you to Top Leaf Tree Service, your trusted tree care experts in Phoenix.
Top Leaf Tree Service: Your Monsoon Damage Specialists
Before we delve into the timeframe for addressing tree damage, let us introduce you to the professionals who can ensure your trees recover effectively.
Top Leaf Tree Service is a renowned name in the Phoenix community, known for its extensive knowledge and highly trained staff in tree care.
Immediate Post-Monsoon Inspection
As soon as the monsoon clears and it's safe to venture outside, visually inspect your trees. Look for:
Broken Branches: Check for hanging or broken branches that have not yet detached.
Leaning Trees: Trees that have shifted significantly from their original position can pose immediate dangers.
Uprooted Trees: If a tree is uprooted or partially uprooted, it's a significant safety concern.
When to Call After a Monsoon:
Emergency Situations: If you identify immediate dangers, such as a tree leaning dangerously or blocking access, contact Top Leaf Tree Service or a certified arborist immediately for emergency assistance.
Within a Few Days: Even if you don't see immediate dangers, having a professional inspect your trees within a few days after a monsoon is wise. Storms can cause hidden damage or weaken a tree's structure, making it susceptible to future problems.
Routine Maintenance: To safeguard your trees against monsoon damage, schedule regular inspections and maintenance with Top Leaf Tree Service. They can identify and address issues before they become emergencies.
Insurance Claims: If the tree damage leads to damage to your property or structures, promptly contact your homeowners' insurance provider to initiate a claim. Document the damage with photos and records.
Community Support: Check if your community or neighborhood association offers guidance or assistance with tree damage cleanup, mainly if it affects common areas or shared spaces.

Address Tree Damage After a Monsoon in Phoenix, AZ
Remember, the severity of the monsoon and the condition of your trees will influence the urgency of your response. Safety should always be the top priority. If you're uncertain about the extent of tree damage or how to address it, consulting with Top Leaf Tree Service, the experts in Phoenix tree care, is a wise choice.Contact Top Leaf today to schedule your maintenance appointment. Our team is ready to help you protect your trees and ensure their long-term health.
Alternatively, you can fill out the compact form below, and one of our experienced staff members will be in touch. In addition, you can check customer reviews on Google regarding our tree care services.

Fill in for a fast response