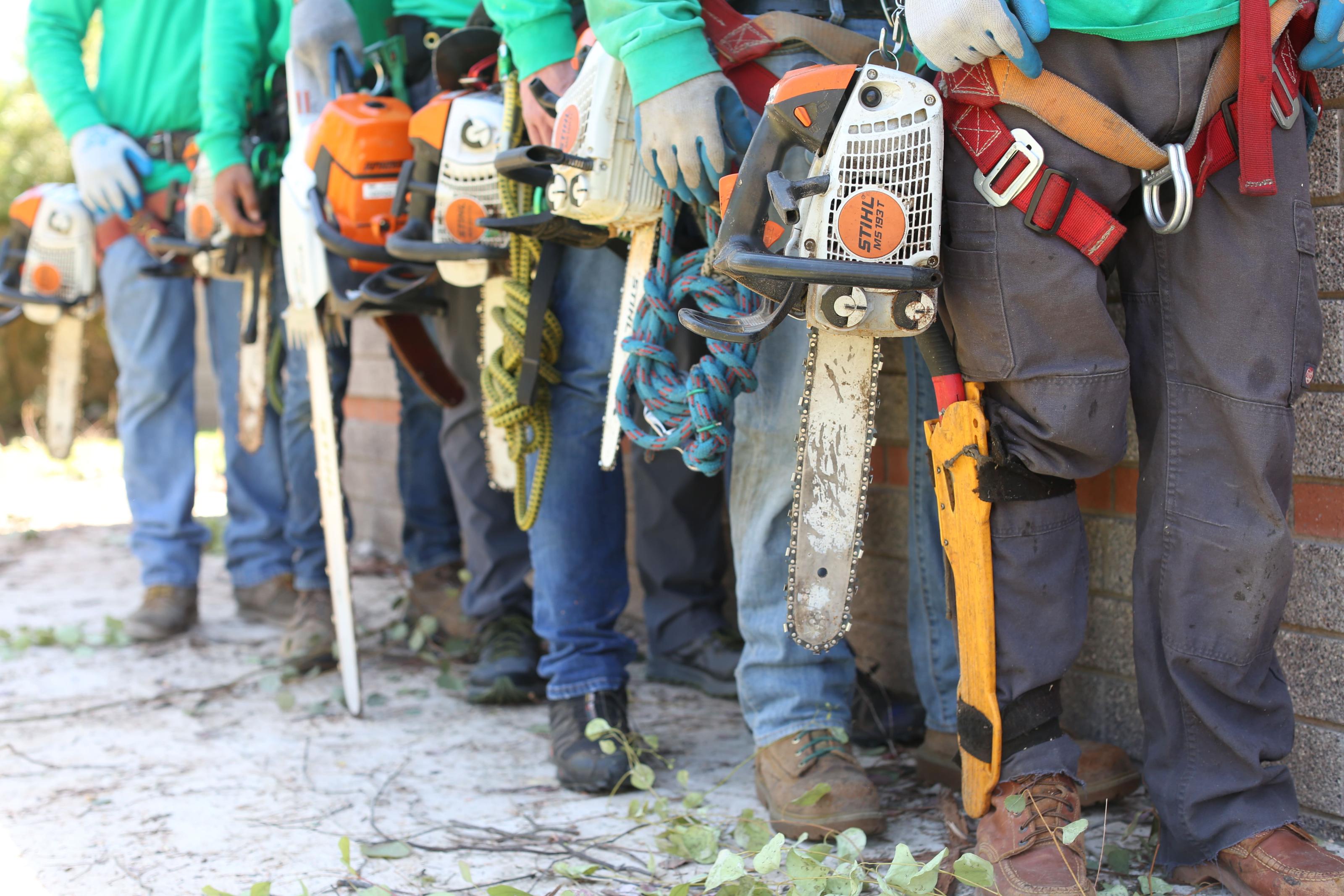 If you've ever had a tree removed from your property, you know that the leftover stump can be quite an eyesore. Here in Queen Creek, AZ, we understand the importance of maintaining a beautiful and functional landscape.
That's where Top Leaf Tree Service comes in. Did you know that over 80% of homeowners opt for stump grinding to restore the aesthetics of their outdoor spaces? Our team is ready to show you effective tree stump removal options. Let's dive into the world of stump grinding and regain the beauty of your yard.
The Stubborn Remnants: Understanding Tree Stumps
After the tree is gone, what's left behind? The stubborn remnants of the stump can be more than just a visual nuisance. They can impede your landscaping plans, as a tripping hazard, and even attract pests. But worry not because in Queen Creek, AZ, Top Leaf Tree Service has been dealing with these stump-related woes for years. We're your go-to experts for eliminating these pesky stumps and reclaiming your outdoor space.
Option 1: Traditional Stump Grinding
Traditional stump grinding is like a magician's trick for your yard. Our specialized equipment grinds the stump into fine wood chips, effectively leveling it with the ground. The result? A seamless, stump-free expanse that opens up possibilities for new plantings or expanded outdoor living spaces. Top Leaf Tree Service has perfected this technique, leaving no trace of the once-persistent stump.
Option 2: Complete Stump Removal
Complete stump removal might be the answer for those who want a clean slate. Our experts dig deep, extracting the entire stump and its root system. This method is particularly beneficial if you plan to repurpose the area for construction or landscaping projects. With the meticulous care and precision that Top Leaf Tree Service brings, you can be confident that your yard will be stump-free and ready for its next transformation.
Choosing the Right Approach for You
Deciding between stump grinding and complete stump removal depends on your unique needs and plans for your outdoor space. Stump grinding is the way to go if you're looking for a cost-effective solution that quickly rejuvenates your landscape. On the other hand, if you're envisioning a significant overhaul of your yard, complete stump removal might be the better choice. Our skilled team is here to guide you through this decision-making process, ensuring you make the right choice for your property.
A Local Touch: Queen Creek's Trusted Stump Removal Experts
In Queen Creek, AZ, Top Leaf Tree Service has earned an excellent reputation. Our dedication to delivering top-notch stump removal solutions is matched only by our commitment to our community. We understand the nuances of our local environment and how it impacts your yard. With our expertise, you're not just removing a stump; you're getting a partner in crafting a stunning landscape that thrives in our unique climate.
Ready for a Stump-Free Yard? Take the First Step!
Are you tired of staring at that unsightly tree stump? Are you ready to reclaim your yard and unlock its full potential? Top Leaf Tree Service is here to make it happen. Whether you choose traditional stump grinding or complete removal, our team has the skills and tools to transform your outdoor space. Reach out to us today, and let's work together to bid farewell those stubborn stumps and embrace a yard that reflects your vision and style.

Conclusion: Unleash Your Yard's Potential with Stump Removal
Your yard is a canvas waiting to be transformed. Don't let the remnants of old trees hold you back. With Top Leaf Tree Service at your side, the options for stump removal are abundant. From grinding away eyesores to complete removal for a fresh start, we've got the solutions that Queen Creek homeowners trust. Contact Top Leaf today to schedule your maintenance appointment. Our team is ready to help you protect your trees and ensure their long-term health.
Alternatively, you can fill out the compact form below, and one of our experienced staff members will be in touch. In addition, you can check customer reviews on Google regarding our tree care services.

Fill in for a fast response