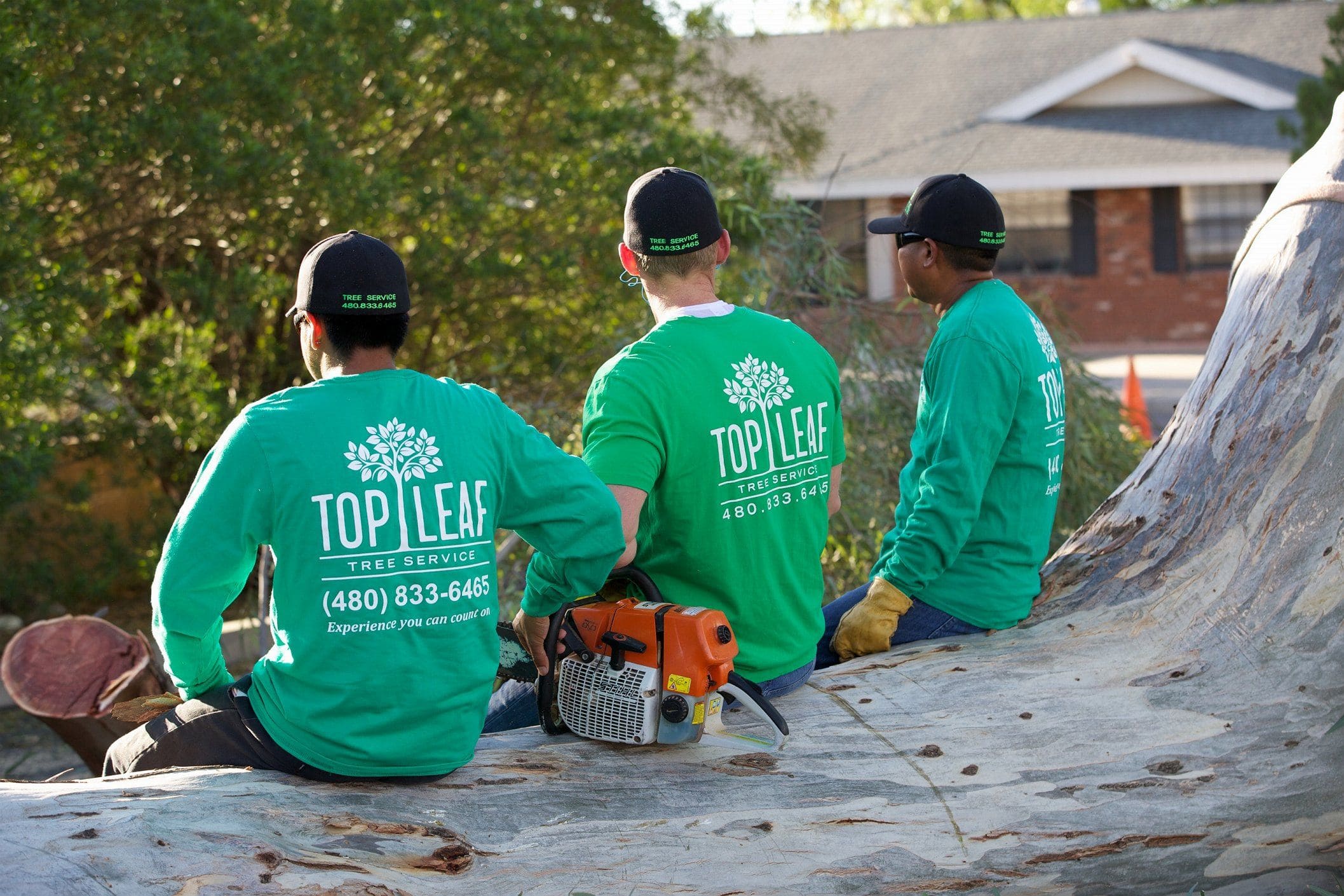 Are you seeking professional tree services in Phoenix to get rid of unsightly stumps? Top Leaf Tree Service is the perfect choice for you.
In Phoenix, AZ, our experienced and certified tree care specialists deliver excellent tree services at a competitive rate. We specialize in stump grinding, tree trimming, and tree removal services.
We understand how challenging it can be to deal with an unsightly stump left behind after removing a tree.
That's why we offer our stump grinding services to ensure your outdoor space looks its best. With our professional-grade equipment and experienced staff, we can quickly remove any size or type of stump from your yard. Our team will also work with you to create a plan that fits your budget and timeline.
How Does Stump Grinding Work?
Stump grinding removes an entire tree stump from the ground using specialized machinery.
The machine grinds the wood into very small pieces, which can then be used as mulch or compost for gardening or landscaping projects. Stump grinding is an effective way to eliminate unsightly stumps without damaging your property's landscape.
Benefits of Stump Grinding
With getting rid of stumps, there are many benefits associated with stump grinding. It eliminates any potential safety hazards caused by protruding roots or dead trees on your property; this ensures your family and visitors are safe when walking around your yard.
It prevents any future growth on the stump, which would require additional maintenance. It helps improve the aesthetics of your yard by giving you a flat surface to work with again.
Professional Tree Services in Phoenix
At Top Leaf Tree Service in Phoenix, we understand how important it is to eliminate unsightly stumps quickly and effectively. That's why our experienced team offers professional stump grinding services at competitive prices.
We use only state-of-the-art equipment and have extensive experience working with various tree species and sizes. We also offer free estimates, so you know exactly what you're getting before committing to any project with us.

Protect Your Home and Property with Top Leaf Tree Service
If you're seeking professional tree services in Phoenix for stump grinding purposes, look no further than Top Leaf Tree Service! We are committed to providing excellent service at a fair price every time. Contact us today for more information or to schedule a free estimate!
You can fill in the compact form below, and one of our experienced staff will be in touch. In addition, you can check customer reviews on Google regarding our tree care services.

Fill In For A Quick Response