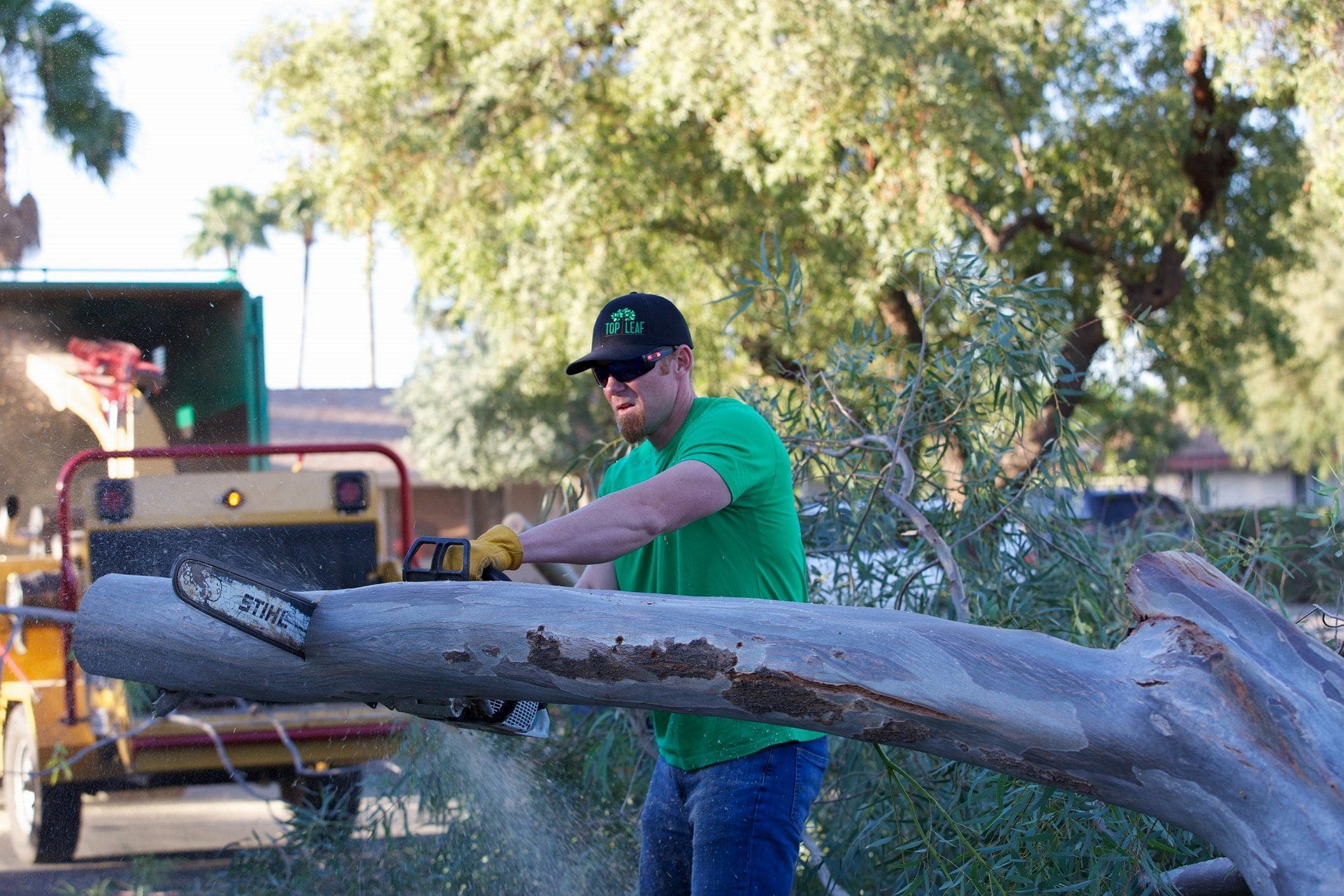 When a storm hits, the damage can be devastating. Fallen trees and branches can cause significant problems for your property, leaving you with a mess to clean up. That's where Top Leaf Tree Service comes in! Our experts are here to help with all your post-storm cleanup needs.
From removing fallen trees and limbs to repairing damaged structures, our team has the experience and expertise to do the job right.
When choosing Top Leaf Tree Service for your emergency Chandler, storm damage cleanup needs, you're getting top-quality service.
We're committed to providing our customers with the best possible experience, so we offer 24/7 emergency services when you need us most.
How to Prepare Your Landscape for Chandler Monsoon Season
Our experience in emergency storm damage shows us how devastating monsoons can be to unprepared landscapes. The following tips will help you prepare for the worst while keeping your property safe during monsoon season.
First, ensuring all trees and shrubs are trimmed and pruned correctly is essential. This helps prevent loose branches from falling during high winds or heavy rain.

Second, clearing gutters and downspouts is crucial in preventing water backup and flooding during a monsoon.

Last, consider installing storm shutters on windows facing areas prone to strong winds to protect against flying debris.
Taking these precautions before a monsoon hit prepares your landscape for whatever Mother Nature has in store.
24/7 Emergency Chandler Storm Damage Cleanup Services by Top Leaf Tree Service
At Top Leaf Tree Service, we experience natural disasters like storms , so we offer 24/7 emergency Chandler storm damage cleanup.
Whether it's a fallen tree, broken branches, or debris scattered all over your yard, our team will arrive at your location promptly and assess the situation thoroughly.
At Top Leaf Tree Service, we pride ourselves on providing reliable and affordable storm damage cleanup services in Chandler. We are dedicated to delivering exceptional customer service by exceeding our client's expectations.

Call Top Leaf Tree Service for Immediate Storm Damage Cleanup
At Top Leaf Tree Service, we understand the anxiety and stress of storm damage to trees. That's why we offer immediate storm damage cleanup services to help ease some burdens off of our customers' shoulders. Our experts are ready and equipped to handle any tree damage caused by storms.
Our prompt response time ensures that we can quickly assess the extent of the damage and provide a comprehensive solution for cleanup and recovery.
If you experience any tree damage from a storm, don't hesitate to contact Top Leaf Tree Service. Our dedicated customer service team will guide you through every step of the process, from providing an estimate to coordinating a convenient time for our team to restore your trees to their healthy state.
You can fill in the compact form below, and one of our experienced staff will be in touch. In addition, you can check more customer reviews on Google regarding our tree care services.

Fill in for a Direct Response