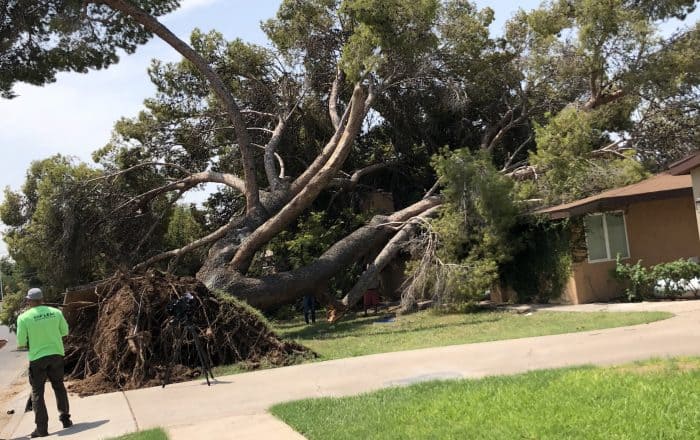 When a storm hits, the last thing you want to worry about is the safety and well-being of your trees. Unfortunately, strong winds and heavy rainfall can cause significant damage to your trees, putting them at risk of falling and causing harm to your property and loved ones.
That's why it's crucial to have a plan for emergency storm damage tree removal services. Top Leaf Tree Service in Mesa, AZ, is here to help you prepare for the unexpected and keep your property safe.
The Importance of Emergency Storm Damage Tree Removal Services
Storms can cause various damage to your trees, from broken branches to uprooted trunks. If left untreated, these issues can lead to a dangerous situation.
Trees damaged during a storm can fall at any moment, causing damage to your property and putting people at risk. That's why it's crucial to have a professional tree removal service to address any damage as soon as possible.
Why Choose Top Leaf Tree Service in Mesa, AZ
Top Leaf Tree Service has provided expert tree care services to Mesa, AZ area for years. Our team of certified arborists is equipped with the knowledge and experience necessary to handle any tree-related emergency.
We use state-of-the-art equipment and techniques to remove damaged trees and branches safely and efficiently, minimizing the risk of further damage to your property.
Our team is available 24/7 for emergency storm damage tree removal services, so you can rest assured that help is just a phone call away. We understand the situation's urgency and will work quickly to ensure your property is safe and secure.
Comprehensive Tree Care Services
At Top Leaf Tree Service, we remove damaged trees and offer a wide range of tree care services to keep your trees healthy and strong. From tree pruning and fertilization to disease diagnosis and treatment, we have the expertise to keep your trees in top condition.
We also offer tree-planting services for those who want to add new trees to their property. Our team will work with you to choose the suitable species for your location and provide proper planting and care instructions to ensure your new trees thrive.

Where To Get premium Tree Care Services
Don't wait until a storm hits to plan for emergency tree removal services. Contact Top Leaf Tree Service in Mesa, AZ, today to schedule an assessment of your property and learn more about our comprehensive
We're just a phone call away, Contact us today to schedule your service.
You can fill in the compact form below, and one of our experienced staff will be in touch. In addition, you can check more customer reviews on Google regarding our tree care services.

Fill In For A Quick Response