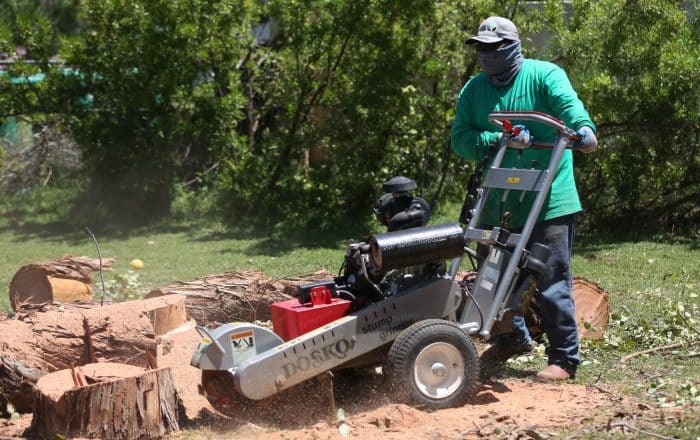 At Top Leaf Tree Service in Gilbert, AZ, we provide our clients with the best tree services in the area. We believe in the importance of eco-friendly practices, so we offer stump grinding services that are safe for the environment.
What is Stump Grinding?
Stump grinding is removing tree stumps by using a specialized machine called a stump grinder. This machine grinds the stump into small pieces, which can then be used for mulch or removed from your property.
Stump grinding is a popular alternative to traditional stump removal methods, as it is quicker, more efficient, and less invasive.
The Benefits of Eco-Friendly Stump Grinding
Eco-friendly stump grinding is a responsible way to remove tree stumps without causing harm to the environment.
When stumps are left to decay naturally, they can attract pests and diseases, spreading to other trees in the area. Stump grinding eliminates this risk and allows for the reuse of the stump's wood chips, which can be used as an organic mulch for your garden or landscape.
Our Eco-Friendly Stump Grinding Process
At Top Leaf Tree Service, we use the latest equipment and techniques to ensure our stump grinding process is as eco-friendly as possible.
Our team of experts carefully ground down the stump, leaving behind no trace of the tree. We also ensure that all wood chips are correctly disposed of or used for mulch.
Why Choose Top Leaf Tree Service for Your Stump Grinding Needs?
At Top Leaf Tree Service, we pride ourselves on our commitment to eco-friendly practices and customer satisfaction. Our experienced professionals will work with you to ensure your stump grinding needs are met with the highest care and attention to detail.
We also offer various other tree services, including tree trimming, pruning, and removal.

Eco-Friendly Stump Grinding Services in Gilbert, AZ!
Don't wait any longer to remove those pesky tree stumps from your property. Contact Top Leaf Tree Service today for our expert and eco-friendly stump grinding services.
Our team of professionals is here to help you enhance the beauty of your landscape while protecting the environment.
You can fill in the compact form below, and one of our experienced staff will be in touch. In addition, you can check more customer reviews on Google regarding our tree care services.

Fill in for a Direct Response