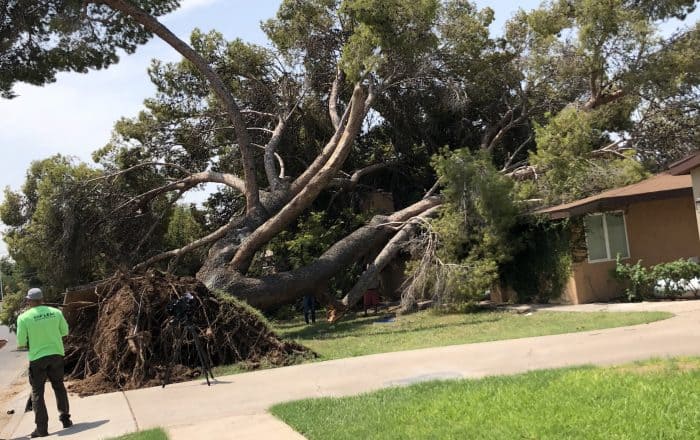 At Top Leaf Tree Service, we understand the urgency regarding emergency storm damage. Our rapid response team is equipped and ready to handle any storm-related issues may arise. Whether it's fallen trees, broken branches, or other debris caused by a monsoon or other extreme weather, our team is trained to act quickly and efficiently.
Don't wait until it's too late; trust our rapid response team for Chandler emergency storm damage needs. Contact Top Leaf Tree Service today for fast and reliable service that will give you peace of mind during even the most brutal storms.
The Importance of Quick Action
At Top Leaf Tree Service, we understand the importance of quick action regarding emergency storm damage. When a storm hits and causes damage to your property, time is of the essence. The longer you wait to address the issue, the more damage can occur, potentially putting you at risk for safety hazards.
That's why our team are available 24/7 for emergency tree removal services. We know that in these situations, time is critical, and we make it our priority to respond quickly and efficiently. Our experienced professionals use state-of-the-art equipment to safely remove fallen trees or branches and mitigate further damage.
Top Leaf Reliable Chandler Emergency Services
At Top Leaf Tree Service, we provide reliable emergency services in Chandler for all your tree-related needs. Whether it's a fallen tree or one about to fall, our experts are available 24/7 to help you.
We understand emergencies can happen and can be stressful for homeowners. That's why we aim to make the process smooth and stress-free. Our experienced professionals will take care of everything from start to finish so you can relax knowing your property is in expert hands. Contact us today for reliable Chandler emergency tree services!
Call Top Leaf 24/7 for Chandler Emergency Post Storm Cleanup
When a storm hits Chandler, AZ, it can cause significant damage to trees and property. It's not easy to deal with the aftermath of a storm on your own. That's where Top Leaf Tree Service comes in. We offer emergency post-storm cleanup services 24/7. Our team is always ready to respond quickly and efficiently to tree-related emergencies.
We know how stressful it can be when disaster strikes, so we communicate clearly with our clients throughout the process. When you contact us for emergency post-storm cleanup in Chandler, you can rest assured you're in expert hands.
You can fill in the compact form below, and one of our experienced staff will be in touch. In addition, you can check more customer reviews on Google regarding our tree care services.

Fill in for a Direct Response