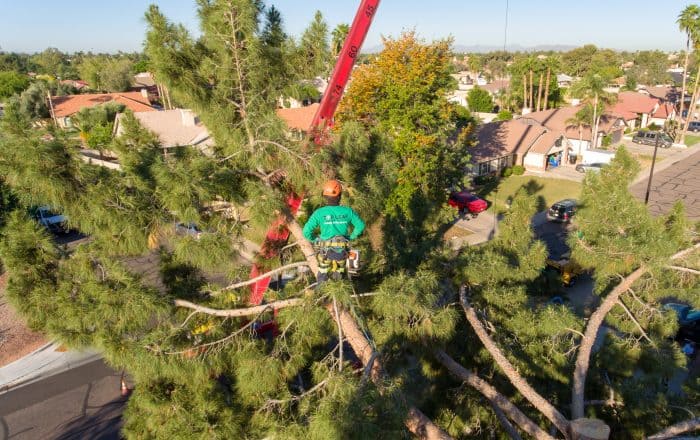 Do you need help cutting palm trees in Mesa, Arizona? Look no further than Top Leaf Tree Service if you need a tree service. Here at Top Leaf, we have skilled arborists and equipment to care for your palm tree pruning needs.
Reasons why you need a professional palm tree trimmer, are as follows:
Maintain the Health of Your Palms
While Mesa, Arizona, is home to many palm trees, keeping them in good condition requires consistent effort. To encourage new development and guarantee the tree has enough light and nutrients, it is necessary to prune away any old or overgrown fronds.
These measures can protect your palm plants from disease and lengthen their useful life.
Improve the Appearance of Your Property
Regular palm pruning is essential for your trees' health and the garden's aesthetic value.
If you let your palm tree's fronds grow unchecked, it could ultimately detract from the look of your yard. Regularly trimming your palms will help you look neat and put together.
Protect Against Your Property
If palm trees are not cared for, they might pose a hazard. A lack of visibility and an increased risk of accidents for pedestrians and motorists are both caused by overgrown fronds.
Moreover, if a frond is dead or damaged, it can fall and inflict injury or property damage. A professional tree trimmer's services can help avoid these problems and the potential danger they pose to passers-by, buildings, and people.
Trust the Experts at Top Leaf Tree Service
It would help if you didn't give your palm trees to anyone to care for. We at Top Leaf Tree Service have the expertise to ensure the appropriate maintenance of your palm trees. Our staff has collectively accumulated decades of experience in tree services, including trimming palm palms.

It's Time to Look for the Best Palm Tree Trimming in Mesa
Keep your palm trees neat and pruned. Palm health and attractiveness depend on regular care and attention. Top Leaf Tree Service is the company you call for expert palm tree pruning services. Make an appointment for service right now by contacting us.
Trust the team at Top Leaf Tree Service to handle your emergency tree removal needs. Contact us today to schedule your service.
You can fill in the compact form below, and one of our experienced staff will be in touch. In addition, you can check more customer reviews on Google regarding our tree care services.

Fill In For A Quick Response